AULOS Hearing Training - Improve your Perception
Active individUalized Listening OptimizationS
...for everyone who wants to train and improve their auditory perception, attention and listening qualities
Since March 2021 we offer in our rooms of the Heidelberg Hearing Academy the AULOS Listening Training, which was further developed according to the basic principles of Tomatis on a neuroscientific basis. On the one hand, this is suitable for healthy elementary school children, adolescents and adults who, especially as musicians or singers, would like to improve or sensitize their hearing, listening and auditory skills. On the other hand, people with hearing deficits or the following other indications will also find relief:
Attention and concentration difficulties
Reading and spelling difficulties
Developmental delay in speech and motor skills
Sensitivity to sound
Stress symptoms
Tinnitus
Autistic behaviors
Depressive moods
Age-related hearing loss
Research background
AULOS listening training is based on our own long-standing neurological research on sound perception (according to Hermann von Helmholtz) as well as the concept of audio-psycho phonology (according to Alfred Tomatis). The AULOS listening training programs carried out last year as part of our basic research with a total of 50 young and older musicians and non-musicians with proportionally diverse hearing deficits and also tinnitus etc. showed almost without exception all a surprisingly high degree of effectiveness (balancing of the hearing and significant alleviation of hearing and listening deficits as well as disturbing noises). We are currently working on the publication. More >> www.musicandbrain.de
Offers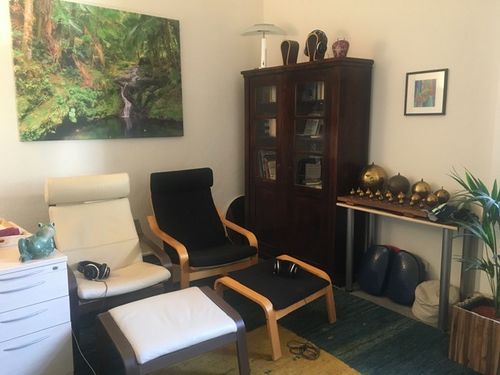 Our training is individually composed of three components
A Active listening to adapted music and nature sounds:. The offered sounds are individually adapted and filtered to personal needs.
B Auditory threshold training: The training programs developed by KLAWA playfully test and improve individual perceptual thresholds.
C Active reading and speaking: speech training in which one's own voice is played back via headphones while speaking and, through filtering, previously little perceived frequencies and resonance spaces are rediscovered.
And we offer three training lengths:
2 - day AULOS wellness package includes:
Preliminary talk, hearing-acoustic pre-measurements, content introduction
5 hours of hearing training
Price: 300.- €
3 - 4 day AULOS compact training with therapeutic orientation
Preliminary talk, preliminary acoustical measurements, introduction to content
10 hours of auditory training (approx. 2-3 hours/day)
Hearing-acoustic follow-up measurements and follow-up talk
Price: 600.- €
5 - 8- day AULOS original training with therapeutic orientation
Preliminary talk, hearing-acoustic pre-measurements, introduction to content
16 hours of auditory training (approx. 2-3 hours/day)
Hearing-acoustic post-measurements and follow-up talk
Price: 960.- €
The AULOS Wellness Package can also be upgraded to the AULOS Compact Training or Original Training. Conversely, the Wellness or Compact Training can also be done as a refresher.
Participation is not only possible during the day, but also in the evening (flexible according to time arrangement).
If you are interested and have further questions, please contact us by email (schneider@musicandbrain.de) or phone +49 (0)6221 3264455 or mobile +49 (0)176 62411277.